Optimize your social media conversion rates

Most people are aware of the power of social media when it comes to branding. It is one of the most useful ways to reach a mass audience and build brand awareness for your company. However, there is another facet of social media of equal importance – converting social media followers into customers or leads.

Conversions from social media are the definitive indicator of success for marketers. While building an audience of thousands of followers is good, is your brand able to make them take action? This proves to be one of the greatest challenges that companies face when it comes to social media, in particular for marketers who are tasked with proving the return on investment of a campaign on social media.

If you are struggling to convert your followers on Facebook, Twitter and Instagram into leads, here are seven tips to optimize social media conversions:
Ensure your landing pages are mobile first
Studies have proven 80% of the time people spend on social media is via a mobile device. That means the majority of people you direct from social media to a landing page are doing so from a mobile phone or a tablet. A lot of landing pages are still constructed from the perspective of viewers on desktop. Because the landing pages are reactive, mobile view can become an afterthought.
When you are constructing landing pages for driving social media conversions, you should think from the perspective of mobile-first. This means keeping the page more lightweight, correctly sizing your images and streamlining. You don't need to completely strip them down, however you do need to make the most important elements a priority.
Keep things brief
It pays to remember, social media users are not necessarily in a "buying mode." They are on social media primarily to be entertained, to catch up on what's going on around the world and for passing time. If you are directing them to a sales page with 1000 or a 15 minute video, they are very likely to click away.
Instead, you should aim to keep landing pages brief. You should think in lead terms rather than sales. Users of social media are at the top of your sales funnel, meaning the likelihood of them being converted into a sale is lower than the chances of getting their email address or them signing up for a free trial. Less is more here and the less information you require, the better social media conversions are likely to be.
A great example is Snapchat. This app is mobile-only, and this is reflected in its website. Viewing the site on your phone, you will find a minimalistic landing page with the sole purpose of prompting you to download the app. By clicking on the ghost image you are sent directly to the app store to download it.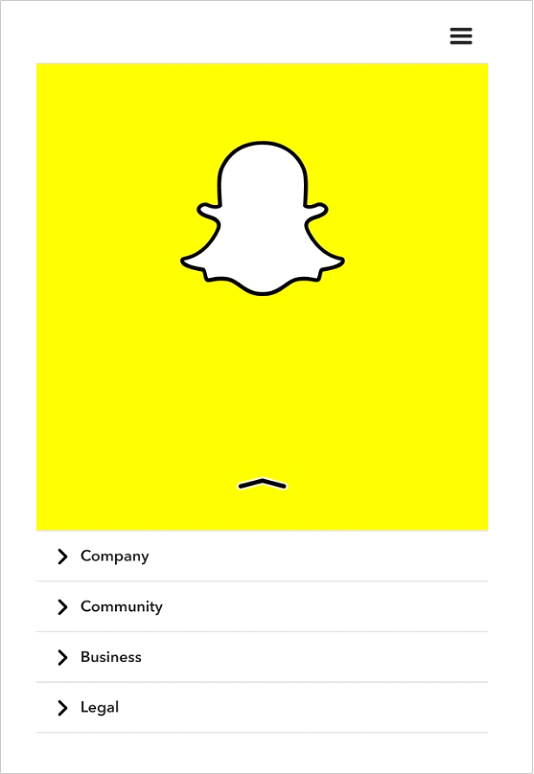 Split test posts on social media
Before you become concerned with getting people to convert from your landing page, you have to actually get them to visit the page. This means your social media posts need to be optimized. You should do your best with all posts to make sure they compel people to click through.
One of the most effective ways of doing this is via split testing. Do this by creating different variations of the same posts. This will help you understand what is working best for your audience. Giving up on a campaign early because you think it isn't working is the last thing you want to do if the issue is just the text.
Along with testing how effective your content is on social media, also try different times and days. There are multiple factors that can affect the conversion of a social media post and it is well worth testing thoroughly.
Create landing pages that are network specific
Account-based marketing is basically method of personalization. Research conducted by Insightera showed that account-based marketing could increase traffic up to four times. The challenge lies in providing a personalized experience for all people who visit your landing pages from social media.
A simple, yet effective, tactic you can employ is to create landing pages that are specific to the social network traffic is being directed from.
Making transitions from social media to your landing pages as smooth as you possibly can increases your chances of converting users.
Request engagement
Getting more views of your social media posts, and thus of your landing page, will increase your chances of conversion. If you are not using promoted Facebook Ads or Tweets, getting the organic reach you require to drive social media traffic to a landing page can be difficult. However, it is easy to increase your reach by requesting people share your landing page or post with their own friends and followers.
When more people begin sharing your posts, it will create a snowball-like effect.
Use Better Images
Images make up a large chunk of marketing on social media. Facebook posts that feature images get more than two-times the audience engagement of posts without them. This is the reason some 70% of digital marketers use images when social media marketing.
Bear in mind, the content of your copy forms only part of the recipe when you consider getting people to interact with your posts. If you don't include an image that is attention grabbing, there is the chance people scroll past your content on social media. Remember your content is up against competition from all similar content for social media users' attention. The images you choose can help you stand out from the crowd.
Utilize social proof
Social proof can be defined as when people make their decisions based on the popularity of something on social media. For example, an article that has thousands of shares on social media will be viewed as more trustworthy and credible.
How to measure conversion rate on social media

We have given you hints and tips on how to improve social media conversion rates, however if you are not tracking those rates you will not know what is actually working. The two things you need to track are:
Click conversions: That is the percentage of people clicking through from your post on social media to your landing page.
Landing page conversions: That is the percentage of people that visit your landing page and convert.
There is always room to improve

Regardless of how high your conversion rates are on social media, there is always room to improve. Give some of the hints and tips in this post a try and discover how you can boost your conversion rates and reap the benefits.